Vill du vara med och bidra till en miljövänligare flygbransch och klimatreducera de koldioxidutsläpp som din flygresa släpper ut? När du flyger till/från Hemavan/Tärnaby flygplats finns det möjlighet att via Fly Green Fund klimatreducera för din resa från eller till Hemavan. Vi vill ju så klart att klimatet ska hålla även för framtida resor till och från vår fantastiska fjällvärld, och alla bidrag räknas!
Fly Green Fund is an economic association, without profit, which allows companies and individuals to reduce their climate footprint on air travel.
The aim is to kickstart the market for biofuel in the Nordic region. We have both corporate customers who pay through annual contracts and private customers can pay with Swish.
The money received through our customers goes to- 75% purchase Biofuel fuel and 25% to support continuous and large-scale production of Biofuel in Sweden.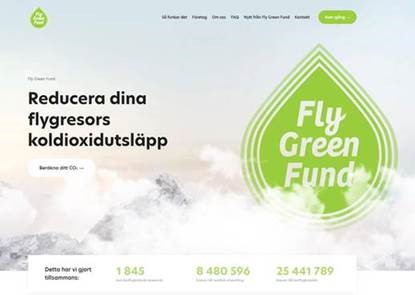 På flygreenfund.se kan du alltså själv välja hur mycket du vill klimatreducera för din resa. När du klimatreducerar går ditt bidrag direkt till att byta ut flygbränslet från fossilbränsle till biobränsle. Skriv bara in varifrån du åker samt vilken flygplats du flyger till. Du får reda på hur mycket koldioxid din resa släpper ut och så kan du välja hur mycket du vill reducera koldioxidutsläppen från din andel av resan. Kom ihåg att det är alltid bättre att reducera lite än ingenting!
Vill du reducera dina koldioxidutsläpp och läsa mer hur det hela funkar? Klicka här!